Penis Size
Some of the most frequently asked questions by men are: 'Is my penis big enough?', 'What is the average size of a penis?', 'How big am I?'
If you find yourself constantly asking or thinking these questions, we may be able to answer them. Below is a table showing the figures on erect penis length, measured in quarter-inch increments.
This study was conducted by the Alfred C. Kinsey Institute for Sex Research. The length measurements shown are the measurements of penis length from its tip to the point where it meets the body.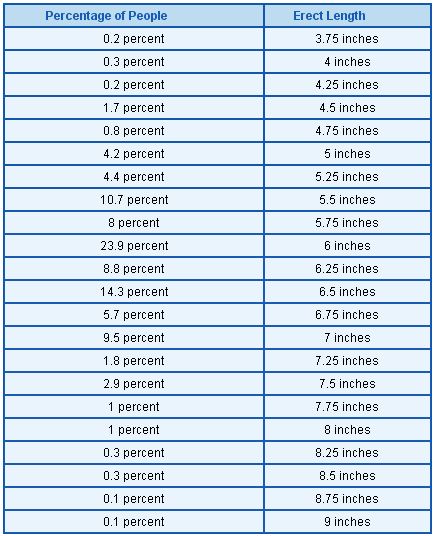 The above data is presented in a graph below...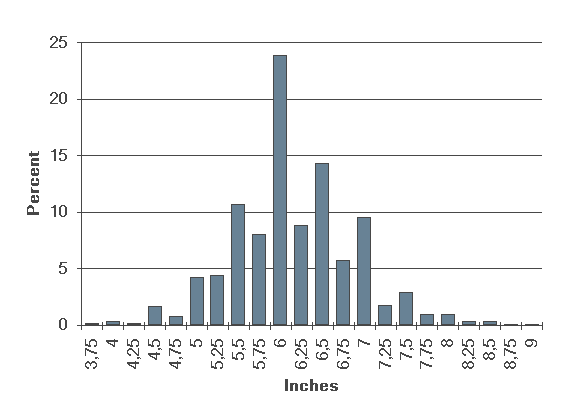 Based upon the above study, the average penis length was measured to be about 6.16 inches and the average girth was found to be about 4.84 inches.
Since this study, there have been many more studies performed to measure the penis size, including a study conducted by researchers at the University of California. The study involved 60 men and they found out that the average size of their penises was 5.1 inches long and 4.9 inches in girth.
Another study conducted by a Brazilian urologist measured 150 men and reported that the average size of their erections was 5.7 inches long and 4.7 inches in girth.
From these results, we can officially say that the average length of an erect penis is about 5-6 inches and the average girth is between 4.5-5 inches. So, after knowing these results, where do you sit when it comes to your penis size? Are you average? Above average? Below average?
If you're interested in finding out the size of your penis, take a measuring tape and measure your erect penis from tip to the point your penis joins your body. Similar to this, measure the girth of your penis to find out exactly where you lie.
Once they have found out the size of your penis, you may find yourself a little disappointed. If this is the case, why not try our very popular penis pills, one of the best methods of penis enlargement methods. Penis pills are easy to take, convenient and very effective. They're also a lot cheaper than having invasive surgery which can be risky and very painful.
Although there are many companies who claim they have the solution to penis enhancement, there are only a few which are genuine. There are some penis pills which come with enlargement exercises, whereas others claim to solely increase the size of your penis. Also, most penis pills and creams are more effective when used in conjunction with a penis stretcher. To find out more about our products, feel free to browse our penis enlargement products.
Enlargement pills work by improving the flow of blood directly to your penis. During sexual arousal, the brain sends blood to your penis, filling the tissue within the Corpora Cavernosa (penis chamber) to its maximum capacity.
Penis pills work by increasing the length and width of these chambers enabling them to hold more blood. This leads to the increased size. However simple it may sound, penis pills ideally need to be combined with well-researched exercises to facilitate penile tissue growth. With growing tissue and more blood in the penis, the penis size is bound to increase.
The views and results expressed in this website are exclusively ours and are based upon the testimonials by our customers since 1998, who claim to have used these products. Your results or experiences may vary.
To compare our best selling enlargement aids, see the list below or click through our navigation bar for more information.
£149.99 £99.95

£30 OFF THIS EXTENDER

£49.99 £35.99

£19.99 £9.99